32-acre Ooltewah estate with 15 bedrooms, 12 bathrooms up for auction
April 3, 2023 at 9:00 p.m.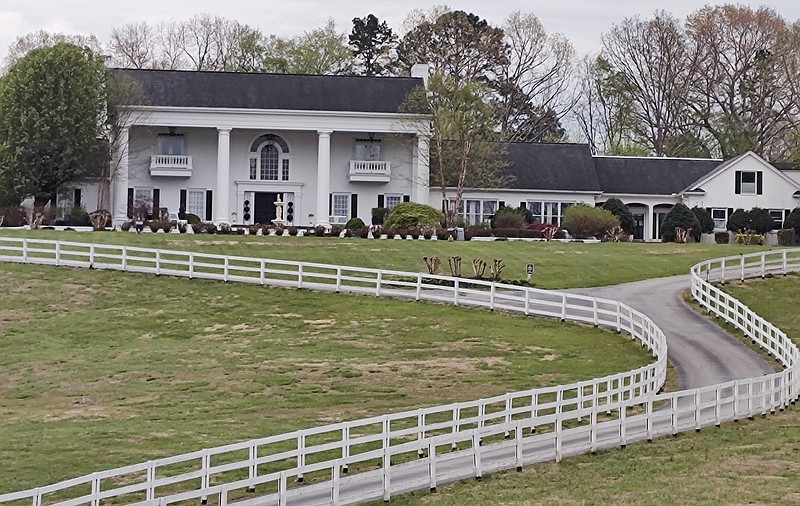 A 32-acre estate in Ooltewah, featuring a 15-bedroom house and grounds sporting a tennis court, pool and a solar farm, that has hosted weddings, vacations and private events is up for auction this month.
Known as the Bell Mill Mansion, the property also has 12 bathrooms, an indoor racquetball court, spa and a jogging track, according to Elite Auctions, the Naples, Florida-based company that will conduct bidding at 11 a.m. April 15 at 8212 Bell Mill Road.
"It's absolutely stunning," said Randy Haddaway, founder and chief executive of the auction company, in a phone interview about the house and tract that's located off Hunter Road. "It's a golden opportunity."
Offered with that property is another parcel at 8168 Bell Mill Road that has a 4,500-square-foot event venue building that can seat 253 people, he said.
The principal property is listed at $4 million, according to Elite Auctions, citing real estate sources.
Records from the Hamilton County Assessor of Property's office show that the 8212 Bell Mill Road house was built about 1985. The auction company said the property has 32,655 square feet of space.
Chattanooga businesswoman Tara Plumlee, the owner of the property, said in an email that the house was originally constructed as a private residence. She said the mansion is being sold again as a residence and no businesses are part of the auction.
Plumlee said she thrives in commercial real estate, business management and entrepreneurship and she wants to focus on her other five local wedding and event businesses and pursue additional opportunities which have recently presented themselves.
"As I recall my excitement when I purchased this property in 2016, which has been a once-in-a-lifetime opportunity, I know it is potentially about to be a highly positive life-changing move for the new owner which will pave the way for exponential financial growth, and if the right fit presents itself, I'll sell the property on April 15th," Plumlee said.
If she doesn't sell, she said, "this beautiful Southern estate will remain in my real estate portfolio as the property has been a true joy to grow and own and live in and will always hold a special place in my company and in my family."
Haddaway said the auction will be held in person at the site, and phone bidding will be available, too.
"It's one of the top properties in the area," he said. "Also, it's one of the top properties in Tennessee."
Haddaway said the parcel could be used as a home or a business.
"You can do a lot of things that bring added income to the property in terms of weddings, corporate retreats," he said. "They do very well."
But the company CEO, too, said only the real property will be sold at the auction. The existing business, farm and grounds equipment, and furnishings are available for purchase separately, according to a news release. Also, the venue's current operator may be contracted for continued use as a wedding, vacation or private-rental venue, the release said.
In addition to Bell Mill's use as a wedding venue, Haddaway said as business people come to Chattanooga, they look for places to hold corporate retreats.
"Not everyone wishes to be in a major metropolitan area," he said. "They're looking for something out of the box that offers privacy and service."
The Chattanooga area saw record-priced home sales in 2022. A mansion built on Elder Mountain by the late Sharon Mills, who was the daughter of the founder of the Olan Mills portrait studio, sold for $4.6 million last May and later sold again to another buyer for $4.9 million.
The only other bigger home sale in the area in 2022 came in Lookout Valley off of Browns Ferry Road, where a Montana investor bought a riverfront home in October that was previously owned by David and Kim Duplissey for $8.7 million.